Embassy of India, Bucharest
Moldova- Fact Sheet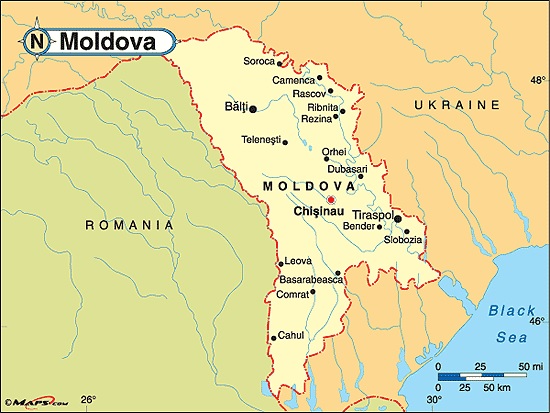 Official name: Republic of Moldova
Area: 33,700 sq km
Population: 3.56 million
Geography: Moldova is located in the South-Eastern Europe and most of its
territories lies between the Dniester River and the prut
Neighbors: Moldova is bound by Ukraine in the north, east and south and by Romania
in the west
Climate: Moldova's proximity to the Black Sea gives it a mild and sunny climate, it is moderately continental, the summers are warm and long with temperatures between 20-25c and going upto 40c in heat waves and winters are relatively mild and dry with temperatures between -4c and -7c falling below -10c in cold wave conditions.
Ethnic Groups: Moldovan/Romanian (75%), Ukranian (8.35%), Russian (5.95%), Gagauz (Christian Turks) (4.5%).
Religion: Eastern Orthodox (95%), Jewish, Baptist, Catholic
Political System: Unitary Parliamentary democracy, Unicameral Assembly with 101 members directly elected by proportional representation.
Main Languages: Romanian and Russian
Currency: Moldovan Lei (MDL) ROE 1 US$= MDL 19.20
Head of State: President of the Republic, H.E. Mr. Igor Dodon
Head of Government: H.E Mr. Pavel Filip
Foreign Minister and Minister
for European Integration: H.E Andrei Galbur
National GDP (at official ROE): US$ 6.534 billion (2016 est.)
GDP(growth rate): 4.1% (2016 est.)
GDP Per Capita (PPP): US$ 5338 (2016 est.)
Inflation Rate: 6.40 % (2016 est.)
Exports: US$ 1.547 billion
Imports: US$ 3.604 billion
Foreign Debt: US$ 6.114 billion
(in lakhs)
Bilateral Trade: Total volume: US$ 9.19 million (Rs.2889.18)
(2016-17) Indian Exports: US$ 5.42 million (Rs.3648.54)
(April-Jan) Indian Imports: US$ 3.77 million (Rs.2540.64)
Indian Community: The Indian Community in Moldova numbers about 200. They are mostly medical students in the Medical University in Chisinau. A cultural association of Indians in Moldova was formed in 2001, which is not active.
26 May 2017