Embassy of India, Bucharest
Fact Sheet: Romania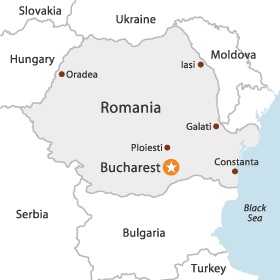 Official name: ROMANIA
National Day: December 1
Capital: Bucharest
Head of State:
President Mr.
Klaus Iohannis
Head of Government: Prime Minister Vasilica - Viorica DĂNCILĂ
Foreign Minister: Mr. Teodor Meleșcanu
Political and Administrative Structure: Legislative, Senators 137, Deputies 334
Administrative Divisions: 42
Area: 238,391 sq.km. (roughly the size of Uttar Pradesh)
Density: 96 per sq. km
Population: 19.87 million (2015)
Urban: 54.4% of total population (2014)
Growth rate: (-) 0.4% (2014)
Life Expectancy: 74.22 years (2014)
Literacy: 92.5% (2014)
Internet Users: 11 million (2016)
Other principal cities: Constanta, Iasi, Timisoara, Cluj, Galati, Brasov, Sibiu.
Coastline: 225 km
Land Boundaries: 2508 km
Railways: 10,784 km
Roadways excl. urban roads: 81,713 km
Waterways: 1,731 km
Airports: 54 (26 paved runways, 28 unpaved runways)
Heliports: 3
Ports and Terminals: Braila, Constanta, Galati (Galatz), Mancanului (Giurgiu), Midia, Tulcea
GDP: $ 177.95 billion (July 2016)
GDP (PPP) $435.45 billion (2016)
GDP per capita PPP: $20,483.78 (2016)
GDP Growth: 4.3 % (2016)
Inflation rate: (-) 3.3% (April 2016)
Pipelines: Gas 3,726 km; Oil 2,451 km (2015)
Oil Production: 84,000 (2016)
Natural Gas Production: 10.3 billion cu m (2015)
Industrial Production Growth Rate: 4% (2015 est/ CIA.)
Reserve of Foreign Exchange and Gold: Euro 38,25 billion (January 2017)
Currency: RON [colloquial Lei]
Exchange Rate: US$1=RON 4.00 (approx.)
Climate: Cold, cloudy winters with frequent snow and fog; sunny summers with frequent showers and thunderstorms. Average temperature is +11° C in the plains and +2° C in the mountains. In Bucharest, during summer the average temperature is 27° C and the maximum 42° C. During winter, the average is 0° C and minimum -15° C. Temperatures during 25-28 May 2017 are likely to be in the range of 12 C to 27 C, with day temperature of 25 C and night temperatures of around 13 C.
Time: April–September: IST -2 ½ hours; October– March: IST -3 ½ hours.
Ethnic composition: Romanian 89.5%, Hungarian 6.6%, Roma 2.5%, Ukrainian 0.3%, German 0.3%, Russian 0.2%, Turkish 0.2%, other 0.4% (2002 census).
Languages: Romanian 91% (official), Hungarian 6.7%, Romany (Gypsy) 1.1%, other 1.2% Romanian. French and English are spoken fairly widely; Hungarian and German are spoken in some regions.
Religion: Eastern Orthodox (including all sub-denominations) 86.8%, Protestant (various denominations including Reformate and Pentecostal) 7.5%, Roman Catholic 4.7%, other (mostly Muslim) and unspecified 0.9%, (2011 census).
Imports : Euro 5.65 billion (May 2016) Common metals, electrical machines, devices and equipment; sound and image display and records, chemical and connected industries products, textiles and such articles, footwear, hats, food products, mineral products, plastic and rubber materials and such articles, agricultural products, etc .
Exports: Euro 4.67 billion (May 2016) Electrical machines, devices and equipment, sound and image display and records, common metals, transport vehicles and parts, chemicals and connected industries products, wood paste, paper, cardboard and its scrap, agricultural products, minerals and fuels, textiles and footwear, etc.
Natural Resources: Petroleum (reserves declining e.g. from 104,600 bbl/day in 2013, Romania produced 84000 bbl/day in 2016), timber, natural gas, coal, iron ore, salt, arable land, hydropower.
Agricultural Products: Wheat, corn, barley, sugar beets, sunflower seed, potatoes, grapes, etc.
Major industries: Electric machinery and equipment, textiles and footwear, light machinery and auto assembly, mining, timber, construction materials, metallurgy, chemicals, food processing, petroleum refining.
Major trading partners: Italy, Germany, France, UK, USA, Turkey, Russia, Austria, Hungary and China.
Membership in International Organisations: NATO, EU, OSCE, Black Sea Economic Co-operation, FAO, IAEA, ICAO, ILO, IMO, ITU, IPU, OPCW, UNCTAD, WTO, to name a few.
Indian Community: The number of Indian nationals and PIOs living in Romania is around 710 (500 Indian citizens and 210 PIOs). The Indian community in Romania comprises of about 200 Indian students (mostly pursuing courses in medicine), businessmen, IT and other service sector professionals, and members of their families.
15 May 2017
Bucharest
Romania